Dear Colleagues,
Latest news
[29 April]
As part of the celebrations for our 10th anniversary,
LIVE MUSIC!
Tuesday evening:
»» Sophie van Hoytema
Wednesday evening:
»» surprise band...
Welcome to the website of the 10th Dutch Endo-Neuro-Psycho Meeting (ENP 2012). This annual Meeting has grown over the last many years into a unique national forum aiming at the exchange of knowledge among various research disciplines, and has stimulated and enforced endocrine and brain sciences in the Netherlands. The ENP Meeting has now reached its tenth edition (fifteenth, counting the original EN Meetings) and some of our history can be found by following the links to our past editions.
To maintain its aims, the organisers of the ENP 2012 have compiled a programme focusing on topic-oriented sessions. The suggestions of many scientists were carefully analysed and the selected proponents now act as session moderators. In addition, daily poster sessions are organised which are open to both young and established scientists. The organisers thus encourage all researchers to submit an abstract for one of the three poster sessions. We hope to re-create once again that ideal atmosphere that promotes interactions between established senior scientists and junior investigators, fulfilling yet another important aim of our meeting.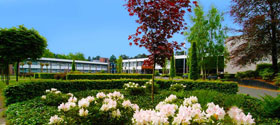 The ENP 2012 will be held at the Conference Centre De Werelt, in Lunteren. This venue provides spacious rooms for parallel sessions, a large hall for poster presentations and a beautiful lounge area to interact with colleagues. Because of the expected high number of participants, the organisers strongly recommend and request room sharing. This will permit all your colleagues to be accommodated on site, thus sharing the atmosphere also in the evening hours.
Finally, the organisers would like to stress and acknowledge the important contribution of the session moderators: theirs is a fundamental contribution for the development of such an exciting scientific programme. In addition, the ENP 2012 would not exist without the generous financial support from our sponsors.
We are looking forward to seeing you in Lunteren next May to cellebrate the 10th anniversary of this fantastic meeting!
On behalf of the Organising Committee,
Sabine Spijker
ENP 2012 chair
Confirmed main speakers
Chen Alon (Israel)
Tallie Z. Baram (USA)
Patrizio Blandina (Italy)
Stephanie L. Borgland (Canada)
Thomas Bourgeron (France)
Tim Craig (UK)
Damiaan Denys (NL)
Jan Deussing (Germany)
Ype Elgersma (NL)
John Foxe (USA)
Felipe Fregni (USA)
Rita Goldstein (USA)
Manfred Hallschmid (Germany)
Trevor Harley (UK)
John-Dylan Haynes (Germany)
Fred Helmstetter (USA)
Suzanne Higgs (UK)
Woody Hopf (USA)
Martien Kas (NL)
Fred Keijzer (NL)
Frank Kirchhoff (Germany)
Jonathan Lee (UK)
Gareth Leng (UK)
Christophe Leterrier (France)
Penny Lewis (UK)
Fernando Lopes da Silva (NL)
Pranjal H. Mehta (USA)
Marie Monfils (USA)
Joseph Newman (USA)
Ruben Nogueiras (Spain)
Benno Roozendaal (NL)
Christian Rosenmund (Germany)
Lee Rubin (USA)
Frank Scheer (USA)
Mathias Schmidt (Germany)
Reza Shadmehr (USA)
Dennis Sparta (USA)
Greg J. Stuart (Australia)
Garret Stuber (USA)
Chattarji Sumantra (India)
Paul Tiesinga (NL)
Michel van den Oever (NL)
Hans van Goudoever (NL)
Jim van Os (NL)
Pierre Vanderhaeghen (Belgium)
Geoff Werstuck (Canada)
Carsten Wotjak (Germany)