Dear Colleagues,
Welcome to the website of the 11th Dutch Endo-Neuro-Psycho Meeting (ENP 2013). Over the past decade, the annual ENP Meeting has evolved into a unique national forum for the exchange of knowledge among various research disciplines, and has stimulated and enforced endocrine and brain sciences, including psychology, in the Netherlands. Last year's ENP meeting counted about 600 participants. Our history can be tracked using the links to the past editions of our meeting.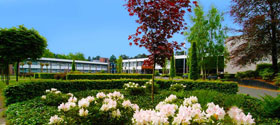 The backbone of the meeting consists of carefully selected topic-oriented parallel sessions, submitted by the session moderators. These sessions feature internationally renowned senior researchers alongside postdocs and Ph.D. students. This approach creates an ideal atmosphere to promote the interaction between established senior and junior scientists and fulfills an important aim of the meeting.
We are very pleased that internationally acclaimed scientists Matthias Tschöp, Daniel Choquet, Andrea Volterra, and Trevor Robbins will be delivering plenary lectures, sharing their views and ideas.
The organisers welcome and encourage all researchers to submit an abstract for one of the three poster sessions that are open to both young and established scientists.
As last year, the ENP 2013 will be held at the congrescentrum 'de Werelt' in Lunteren. This venue provides spacious rooms for parallel sessions, a large hall for poster presentations and a beautiful lounge area to interact with colleagues. Because of the anticipated high number of participants, the organisers strongly recommend and request room sharing. This will permit all of your colleagues to be accommodated on site, thus sharing the atmosphere also in the evening hours.
Finally, the organisers would like to stress and acknowledge the important contributions by the session moderators: they bring this year's exciting programme. In addition, the ENP meeting would not be possible without the generous financial support from our sponsors.
We are looking forward to seeing you in Lunteren this May!
On behalf of the Organising Committee,

Wery van den Wildenberg
ENP 2013 Chair
Confirmed main speakers
Zane Andrews (Australia)
Julie Bakker (Belgium)
Elisabeth Binder (Germany)
Laus Broersen (Netherlands)
Ruud Buijs (Mexico)
Larry Cahill (USA)
Daniel Choquet (France)
Veronique
Deroche-Gamonet (France)
Lars Edvinsson (Sweden)
Bieberich Erhard (USA)
Patricia Gaspar (France)
William Gehring (USA)
Michel
Goedert (United Kingdom)
Fernando
Gomez-Pinilla (USA)
Jim Goodson (USA)
Laurent Groc (France)
Paul Kenny (USA)
Stafford
Lightman (United Kingdom)
James McGaugh (USA)
Sandra Meier (Germany)
Jorge Mendoza (France)
Michelle Mielke (USA)
Heike Muenzberg-Gruening (USA)
Jo Neill (United Kingdom)
Michael Nitsche (Germany)
Michael Plichta (Germany)
Arne Popma (Netherlands)
Jan Ramaekers (Netherlands)
Trevor
Robbins (United Kingdom)
Benno
Roozendaal (Netherlands)
Phillip Sabes (USA)
Claudia Sommer (Germany)
Sandrine
Thuret (United Kingdom)
Matthias Tschöp (Germany)
Andrea Volterra (Switzerland)